Violate is her name, she wears the orange skirt in the photo. The misspelled name given to her at birth a prophecy. She was raised in a difficult family situation. She was married at a young age and has 3 children. Her life has been hard. Then she joined a Bible Study Group where she learned about God's love and his plan for her life. Violate loved studying the Bible and soon she was even leading the Bible Study Group herself. She was modeling for others what it means to be a Christian from her own trouble past. In her words, "From the time I joined Bible studies, my life changed. I now trust the Holy Spirit to lead me in making decisions instead of asking neighbors that always mislead me."
Then seemingly, more disaster. She and her husband decided to plant a rice field. They worked hard together, often side by side, but many days Violate toiled in the field on her own. The work paid off and the couple harvested 28 bags of rice! Violate was thinking this harvest would change everything. It could help her family, even save her troubled marriage. Instead, her husband sold the rice, took the money, and ran off with another woman.
When she shared her testimony many of the women in the Bible Study Group cried. But Violate shared with them that God had given her peace. She shared with them "God has taught me to rely on Him alone. To fully trust Him. No matter the situation, I can know that God loves me."
Violate is replanting now. She continues to work hard. She continues to be a role model and an example to other women. She is young, but her example is giving other women hope for their future too.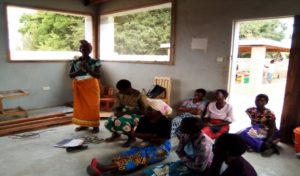 Learn more about Y-Malawi           Learn more about sponsoring women & girls    Click here to donate