Mdana was struggling.  Her husband left her.  She was unable to feed her children.  School fees nearly impossible.  Then she registered for Y-Malawi's sponsorship program for women and her life began to change.
She became food secure.  Her house was improved, her children able to attend school.  Things were so much better that Mdana decided to apply for a new Economic Empowerment program Y-Malawi was offering.  She was accepted and started learning about business and handling money.  She was given a grant and combined with a loan was able to start a small business of selling bulk rice.
The business didn't stay small for long.  Mdana had big dreams.  She would buy rice in bulk in the city, then transport it back to her village where she would sell it at a profit.  Before long she was selling 50 bags of rice each month!  In the photo she is sitting on some of those bags.  Her business grew and soon became valued at $3,000.  A lot of money for someone from the village.
Mdana hasn't stopped there.  With coaching from her Field Officer, she has invested in her own rice field.  She has a field of about 5 acres (see the photo) where she will now grow her own rice to make even more profits in the future.  She no longer worries about food, clothes, or school for her children.  Her life has changed.  She is independent, able to stand on her own.  Recently she told her sponsor in America, "I am so grateful for what you have done to me.  My life is not the same.  My life is better now."
Economic Empowerment is working.  Mdana is proof.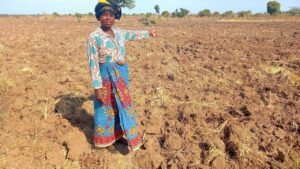 You can help someone like Mdana.  Learn more by clicking here.  Learn More