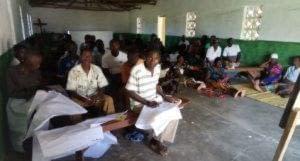 Can the Church change the world? We believe it can!
In the Nkhotakota District, 52 of 59 local village churches have joined hands to create lasting change. Organized by Y-Malawi partner World Relief, they are coming together to gain doctrinal training that most have never had access to. Yet, coming together is about more than learning the truths of the Bible.
In coming together these churches are discussing and prioritizing the needs of their communities. Not just spiritual, but physical needs too. They are discussing how local churches can bind together to create change that benefits and lasts. Working together they have begun "seed projects." These are small projects like building proper latrines, fixing homes, and other small community development. Their value goes beyond physical improvements. They demonstrate the love of Jesus. They demonstrate how His Church cares and can make a difference in the lives of people and community. They demonstrate how the Church can be the catalyst for development that actually comes from within the community itself, as opposed to dependency on outside resources.
Can the Church change the world? It already has.