What in the world could nourishment and the Bible have to do with each other? Well, perhaps more than you think. They both bring life and provide abundance. Fertilizer can nourish plants, fruits and vegetables. The Bible can nourish the lives of people. In Malawi, our partners use both to to make a difference.
They hold classes teaching people how to make their own fertilizer using biodegradable waste. Fertilization is not a common practice in Malawi, but when done properly it can produce significant increases in crops. It can mean the difference between life and death during the hunger season.
Then classes transition to teaching the Bible. It is amazing to understand how open the people are to hearing about the word of God. Like nourishment for lives, people are growing, they are blooming. They display the beauty of knowing God in their lives. They are share the fruits of purpose and peace.
It's a lesson many of us could take to heart too!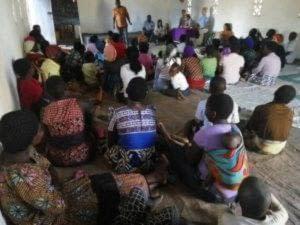 Learning how to make fertilizer               Learning about the word of God