"I think Jesus came to visit me today!" That's what Tiyanjane told her Field Officer during their last visit. Tiyanjane is one of those sponsored in Y-Malawi's new program to empower women and girls. She is 11 years old. On the first visit the Field Officer found her unable to attend school for lack of a uniform and supplies. Her family is very poor. A burlap sack laid on the dirt, was her bed. She often complained of stomach aches, and the family had little food.
On the next visit Tiyanjane traveled to town. She had never been there. She was examined at a clinic and received help for her stomach issues. A school uniform and school supplies were purchased, even a full bag of Maize for the family.
Without going to school, Tiyanjane would be a candidate for marriage within a year or two. Now she has a smile on her face and hope for a better future. We are so excited about what God is doing in Malawi. We are just getting started, our goal is to empower thousands of girls and women like Tiyanjane.
You can learn more by simply clicking the Empowering Girls and Women tab.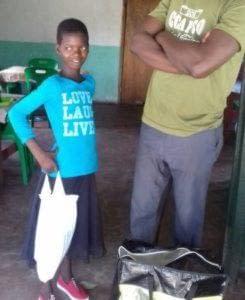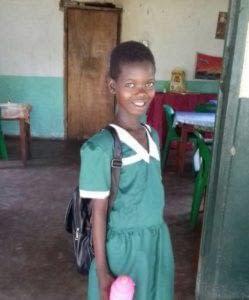 SCHOOL SUPPLIES AND FOOD                                                 A NEW SCHOOL UNIFORM